Term-time holiday ban 'hits tourism'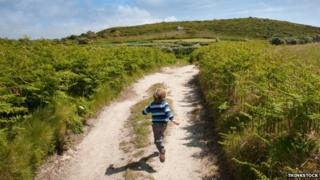 Tourism businesses in Cornwall say a ban on term-time holidays for families is damaging the industry.
New legislation came into force in September introducing fines for parents who take their children out of school during term.
Tourism leaders say confusion over the law is costing them money.
They have written to Michael Gove, Secretary of State for Education, calling for the law to be changed.
Justin Spreckley, who owns 12 self-catering holiday cottages in Pelynt, says family bookings have dropped by a quarter.
"We've experienced, based on our statistics comparing last year against this year, a 27% drop in families coming during the school term time," he said.
"I'm sure the government's legislation was well intended but did they actually look at the implications?"
'Heads are frightened'
Edythe Coles, who chairs the Southeast Cornwall Tourism Association, said the law was confusing because local authorities around the country implement the new rules differently.
"There's not enough clarification for the head teachers, the parents, even the councillors," she said.
"Everybody's a little bit frightened of it so the parents are frightened of taking them out of school and the heads are frightened of letting them.
"It needs to be sorted."
Sheryll Murray, MP for Southeast Cornwall, is supporting the businesses.
"These people have been encouraged over a number of years to accommodate families and the accommodation is now empty outside term time.
"We need to look for a solution because I can't have holiday businesses suffer."
The Department for Education says schools should take a "tough stance" on parents who take children out of school during term time.