Pre-World War One sailing log found at yacht club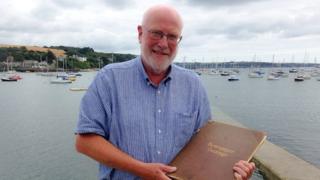 Members of a yacht club in Cornwall are trying to discover how a book detailing a sailing from England to the German Empire, just days before World War One broke out, ended up at the club.
The leather-bound volume details the journey of the ketch The Owl from Harwich, Essex, to Kiel in Germany in 1914.
It was found in the Royal Cornwall Yacht Club in Falmouth.
Club members said they were baffled to find it in a conference room.
The Owl is described in the journal as being owned by NP [Nicholas Pentreath] Andrew, with an address of Wood Lane, Falmouth, plus addresses in Gravesend, Essex, and London.
It set off from Harwich in early July 1914 with a crew of five, sailing through Germany's Kiel Canal between the North Sea and the Baltic Sea, before returning to England at the end of the month.
The book also contained postcards and a paper passport issued to Mr Andrew and his crew for the voyage to Kaiser Wilhelm's German Empire.
Club member John Pickup, who found the volume, said: "I realised it wasn't just a scrapbook. It's a really interesting book that needs preserving.
"It's falling apart, but most of the pages are in reasonable condition and the whole thing is completely legible."
The entry from 30 July 1914 describes the British Navy massing off about 25 miles (40km) off of the coastline of south east England as the Owl returned home.
It detailed many cruisers and battleships, adding: "We were close enough to the leading cruisers to notice that all guns were run out, ready for action.
"The sight of this fleet, its position and direction, made us suspicious of coming events."
The next day noted that when one of the crew went ashore, he reported back that the "coastguard had been replaced by territorial army guards with fixed bayonets".
Mr Andrew said he enjoyed the cruise, and "in light of recent events, it is one not to be easily forgotten".
Britain declared war on Germany on 4 August 1914.
The 23-tonne, 50ft ketch is still believed to be sailing with a French owner, Mr Pickup said.