Cornish radio station re-enacts WW1 shipping warning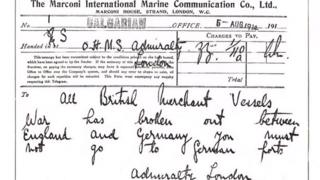 The moment Poldhu Radio Station in Cornwall informed shipping of the declaration of World War One has been re-enacted 100 years on.
Just hours after Britain declared war on Germany the Helston station sent out a Morse code message to warn merchant ships to stay away from German ports.
The station believes the signal was sent out before newspapers were issued.
To mark the World War One anniversary, the Morse code message has been recreated at the Poldhu Radio Centre.
Poldhu Radio Centre continued to keep shipping informed of what was going on and where potential danger lay throughout the war.
Mike Thomas, Mayor of Helston, said: "It was very important that our shipping were aware of the dangers, I suspect they were very conscious that the events on the world stage were very dangerous so it was crucial the message got to them to avoid German ports."
Little remains of the radio station building but Mr Barlow said Poldhu Radio Centre aimed to keep the memories of the station alive.