Calls for independent arbiter in hospital parking charges row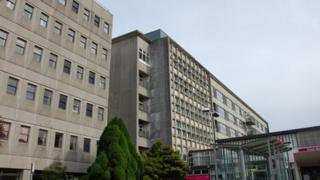 A union has called for an independent arbiter to resolve a row over parking charges for staff at the Royal Cornwall Hospital Trust (RCHT).
Unison said low-paid workers were facing a bill of more than £300 a year if subsidies were removed.
The union said trust bosses were being "confrontational".
Trust managers previously said they could no longer justify their spending to support staff parking. They refused to comment further.
'Rejected out of hand'
Currently, low-paid staff pay up to £60 a year for parking at the Royal Cornwall Hospital near Truro.
That was expected to be more than £300 if proposed removal of subsidies went ahead, unions said.
Regional organiser for Unison Stuart Roden said the unions had submitted a collective grievance against the trust after it rejected "out of hand" alternative suggestions
He added bosses had become "extremely confrontational".
He said: "We accept parking can't be subsidised.
"We came up with an alternative suggestion that charges be proportionate to people's earnings, but that was rejected out of hand.
"We need someone independent to come in and look at this issue."
The trust declined to be interviewed by the BBC.
Managers previously said they could "no longer justify spending £40,000 per year subsidising staff parking" and said the changes would further prioritise clinical services funding.