Crantock Bale Push hay figures set on fire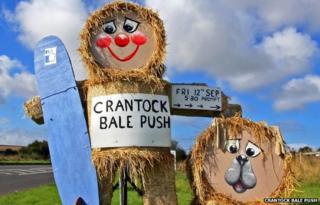 Organisers of a charity hay bale pushing event say they are "very upset" two giant straw figures have been destroyed in a suspected arson attack.
The figures of a man and a dog, created for the Crantock Bale Push in Cornwall, were set alight early on Saturday, organisers said.
They had been positioned on the A3075 near Newquay.
The push, which has raised more than £70,000 for 40 charities since 2000, is due to go ahead on Friday.
The event sees teams of four push circular bales over a quarter of a mile (400m) through the village of Crantock. More than 100 teams took part in 2013.
Organiser Hannah Eustice said: "Those responsible diverted three police patrol cars and one fire engine from important work elsewhere and could have caused an accident on the road.
"It happened just a day after the straw bales were repaired having been pushed over on Friday. But nothing will stop us in our aim to support these very important local and Cornish charities."