Devon and Cornwall police officer sacked over 'punch cover-up'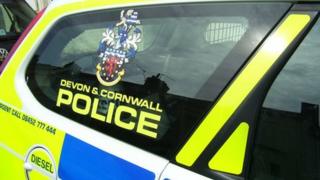 A detective sergeant with Devon and Cornwall Police has been sacked for gross misconduct.
Police sources told the BBC that the off-duty officer hit a young man after an altercation in Cornwall and then tried to cover up what had happened.
The incident was reported to the police by witnesses, the BBC has been told.
The force confirmed the officer, who has not been named, was dismissed following an investigation by the Professional Standards Department.
The force said in a statement: "Devon and Cornwall Police dismissed, without notice, a serving police sergeant from the organisation following the conclusion of misconduct proceedings.
"The officer appeared at an internal misconduct hearing following an investigation into allegations that the officer had used unnecessary force against a man whilst off duty and subsequently provided a false account of the circumstances of the incident.
"The allegations were found to be proven by a misconduct panel, who determined the officer's actions amounted to gross misconduct, breaching the standards of professional behaviour expected from a police officer."
In June, another Devon and Cornwall Police detective sergeant was sacked for data protection breaches and repeatedly using a force vehicle for personal use.