More attempts to tackle Porthtowan dune erosion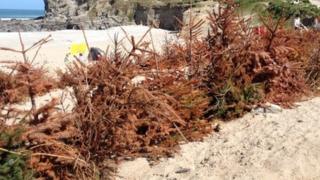 Further attempts are to be made to tackle erosion problems on a beach in Cornwall, a council says.
Earlier this year Christmas trees were planted along the beach in Porthtowan to act as wind traps which some residents called an "eyesore".
Many of the trees were ripped up again by the council in May.
Cornwall Council said it was asking residents to put forward their ideas, and that it was commissioning an in-depth study of dunes.
'Correct approach'
Nicola Pearce, from the Porthtowan dunes community group, said: "We have asked the community what they want.
"Most people seem to want a low, flat dune that is grassed over."
The trees were planted in January, with Cornwall Council claiming they would act as wind traps allowing marram grass to grow and hold sand together.
But the move angered some local residents. Luke Morris, who runs the nearby Blue Bar, described the trees as "an eyesore on what is a fantastic beach".
Jon James, the council's natural environment manager, said Christmas trees had been used in other parts of the country.
He said: "We have listened to the community and we have carried out some work to alleviate the sand going on to the road.
"We're hoping to have feedback from a dune management study in the next few weeks, then we can ensure we take the correct approach."