Cornish busking violist, aged 9, raises £16,000 for charity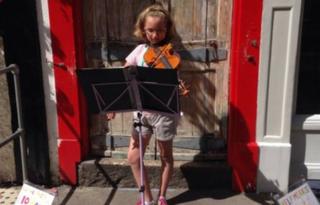 A nine-year-old girl from Cornwall has raised £16,100 for charity by busking with her violin.
Madison Glinski, from St Ives, has been raising funds for the Little Harbour Children's Hospice South West.
Her aim was to raise £500 but Madison has exceeded her target and is now aiming for £20,000.
Supervised by her parents, the youngster plays classical, theme tunes and folk music on the streets of St Ives.
"I've been busking for myself for a few months but I didn't know what to do with all that money, and I don't really need it, so I decided to busk for the Little Harbour," she said.
"It's for very sick and sad children who probably need a lot of help and I thought that was right."
Madison's mother, Terrasa Glinksi, added: "She's taken us all by storm, we are all in awe of her efforts and we couldn't be more proud."