Cornwall councillor Jim McKenna's £100K payback pledge fails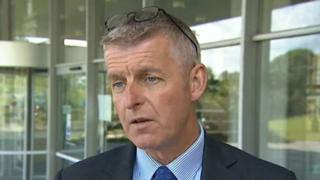 A former district council chief executive who promised to donate a £100,000 redundancy payout to community groups has only made one payment in four years, he has admitted.
Jim McKenna was hailed "a very civil servant" for making the pledge in 2010 but has not kept up with promised payments of £5,000 a year.
He was elected in 2013 and is now a Cornwall Council cabinet member.
Mr McKenna, from Penzance, blamed "personal circumstances".
Mr McKenna was given the redundancy payout for his work as chief executive of Penwith District Council, which formerly covered west Cornwall.
It was abolished in 2009 to make way for the newly-formed unitary authority of Cornwall Council.
'Do my best'
Mr McKenna was elected as an Independent candidate for the Penzance Promenade seat on Cornwall Council in May 2013.
He was then chosen as cabinet member for health and adult care - for which he receives about £27,500 a year.
In an interview with the Guardian newspaper in 2010, Mr McKenna said: "Everyone in the district has made a contribution to the redundancy, so I should give it back."
However, Mr McKenna admitted to the BBC he has not made any further payments since donating £5,000 to the Penzance Town Mayor Welfare Fund in 2010.
He said: "I said I would do my best over 20 years to repay it.
"Progress has been slower than anticipated because of personal circumstances."
Mr McKenna would not elaborate on what those circumstances were.
He said: "It remains my intention to try to give back the remaining £95,000 over however long it takes.
"But given my circumstances it will be a couple of years before I'm able to resume giving money."
Mr McKenna said he still believed people should not work in the public sector with profit as a primary motivation.