Carer John Copping defrauds veteran out of £15k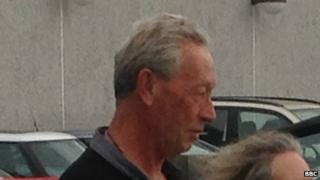 A carer defrauded an elderly man who "treated him like a son" out of £15,000, a court heard.
John Copping, 61, from Penzance, west Cornwall, wrote cheques to himself from the bank account of 94-year-old World War Two veteran Frederick Angwin.
Copping was given a 16-month suspended sentence after pleading guilty to fraud at Truro Crown Court.
Judge Christopher Harvey Clark said Copping took advantage of a "frail and elderly man".
Belgian resistance
Prosecution barrister Sarah Vince told the court the fraud had taken place from January 2008 to August 2013 following the death of Mr Angwin's wife, Marguerite.
She said Copping got to know Mr Angwin and his late wife over 30 years and the couple had given Copping land on which he had built a house.
Sentencing, Judge Harvey Clark said: "You were in a very special relationship with Mr and Mrs Angwin. I see you were treated by them like a son.
"You loved them and they no doubt loved you, and over the years as they grew more elderly you conscientiously and kindly helped them with many tasks."
The judge said Copping had not intended to defraud Mr Angwin but had borrowed money which he was "unable or unwilling to pay back".
In mitigation, the court heard Copping would sell his house to repay the money.
Copping was placed on curfew for four months and ordered to carry out 140 hours of unpaid work.
After the hearing, Mr Angwin's niece Tracy Angwin said her uncle served with the RAF during World War Two when he met his wife who fought for the Belgian resistance.
She said: "He is a really lovely man and he has been devastated by this."