Man 'swept off' Torquay sea wall by waves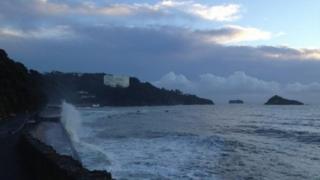 The search for a man reported to have been swept from a sea wall near Torquay has been called off.
Two helicopters and two lifeboats spent the night looking for an elderly man reported to have been swept away on Thursday evening.
That search was called off at midnight amid poor conditions and strong winds.
Police said they were now trying to establish whether anyone fitting the man's description had been reported missing.
A member of the public told police they saw a man disappear from view as waves crashed over the wall at Meadfoot Beach at about 21.30 GMT.
The helicopters and lifeboats along with police and coastguard rescue teams scoured the area.
In a statement on Thursday evening, the Maritime and Coastguard Agency said: "Weather conditions on scene are described as poor, with 1.5m swell and a strong onshore wind.
"Unless any new information comes to light, the search has been stood down."