Call for extra council tax on Cornwall's second homes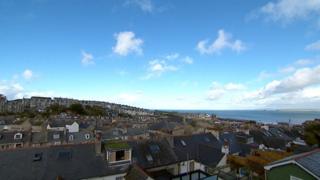 Labour councillors want owners of second homes in Cornwall to pay more council tax to fund affordable housing.
The group wants the unitary authority to be able to charge up to twice current permissible amounts.
More than 14,000 of Cornwall's 260,000 homes are designated second properties. Some argue this has priced local people out of buying their own homes.
The Liberal Democrat/Independent-led council said changes were unlikely unless it got more devolved powers.
Council tax in Cornwall currently ranges from £1,008 for Band A properties to £3,024 for Band H.
Last year saw the average house price in the county at about £220,000, some 10 times the average earnings in the county.
'Not a fine'
Labour councillor Cornelius Olivier said: "The biggest single problem facing Cornwall is what people are able to earn locally and what housing costs and this is a way of closing that gap.
"It's not intended as a fine. We're asking [owners] to contribute towards solving a problem which their perfectly legitimate activity has helped cause."
Geoff Brown, cabinet member for homes and communities, said there were a "number of areas where second homes are having a significant impact on some communities".
"We've been to the government on a number of occasions and been told categorically there is no intention of changing legislation to [address] that," he explained.
"Without that, there's no possibility of going beyond charging 100% council tax."
Cornwall Council scrapped a 10% council tax discount on second homes in 2012.
Mr Brown said the focus needed to be on calling for changes to the planning system to allow the creation of more homes.
Meanwhile, plans for 47,000 new homes for Cornwall by 2030 were approved by the council's cabinet on Wednesday morning to go to the full council.