Mass seal strandings in Cornwall: Experts 'baffled'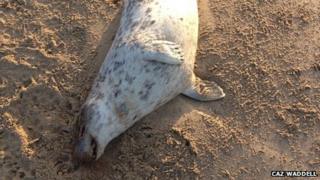 Marine wildlife experts say they are "baffled" by the high number of seals becoming stranded in Cornwall.
Cornwall Wildlife Trust said there have been twice as many strandings in October and November compared to previous years.
The charity said 35 dead seals had been washed up on Cornish beaches and 37 live seals rescued in two months.
Conservationists said the number of animals being stranded was of national concern.
Caz Waddell, marine conservation officer at Cornwall Wildlife Trust, said: "Whilst bad weather will undoubtedly have been the cause of some of these strandings, the sheer number of cases has left us slightly baffled.
"We don't yet have any answers as to why this is happening, but it shows just how important it is for people to tell us about any stranded marine animal they see."
National concern
Cornwall Wildlife Trust said Britain has over a third of the world's population of grey seals.
The charity's Marine Strandings Network coordinates the investigation and recording of all dead stranded animals in Cornwall.
Niki Clear from the network said: "At the moment it remains a mystery what, if anything, is the cause of this recent spike in seal strandings.
"It's only by gathering information about each case that we can build up a true picture of what is happening."
Sue Sayer from the Cornwall Seal Group said two of the seals found dead in Cornwall were from Skomer Island in Pembrokeshire.
"This highlights how important it is to remember the bigger picture. The large numbers of strandings occurring in Cornwall is of concern not just to us locally, but nationally as well," she said.
The 37 live seals were rescued by the British Divers Marine Life Rescue organisation.