Vandals destroy Bodmin's WW1 Christmas tree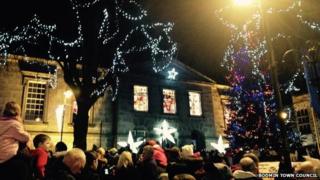 A Christmas tree designed to commemorate World War One has been destroyed in a "professional" manner.
Vandals attempted to cut down the tree in Bodmin, Cornwall, and shredded the lighting display with electrical tools.
Bodmin Town Council staff said there had been a "predetermined effort" to destroy the lighting system.
The vandalism took place in the early hours and caused damage costing at least £500.
'Insult to the memories'
Carolyn May, senior projects officer at Bodmin Town Council, said: "Our electrician has advised us that the cables were cut in a very professional and expert manner with the sort of tools that people in the trade would use.
"It would appear that it has been a predetermined effort to cut the wires and I would say the lighting that has been cut is no longer serviceable."
Mrs May designed the red, white and blue lighting to mark the 100th anniversary of the beginning of World War One.
The vandals hacked at the base of the tree which meant it had to be taken down.
She said: "I think it's quite an insult to the memories of those who gave their lives."
Town councillor Lance Kennedy told the BBC that the authority was trying to get a new tree put up by Monday.
Devon and Cornwall Police have been informed.