Former Archbishop of Canterbury installed as Endellion church prebend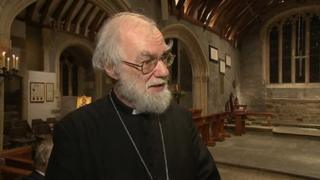 The former Archbishop of Canterbury Dr Rowan Williams has been installed as a prebend at a parish church.
Dr Williams, who was the archbishop for 10 years until 2012, joined four other prebends at St Endellion Church.
A prebend is a senior member of the church clergy. The post will see Dr Williams help with church activities such as the Endelienta arts festival.
In 2012 Dr Williams nominated the church in north Cornwall as his favourite in the UK.
He was invited to take up the prebend role by the Bishop of Truro, the Right Reverend Tim Thornton.
Church staff said the congregation was "tremendously honoured" Dr Williams had accepted Bishop Thornton's invitation.
Dr Williams, who took up the his new post on Sunday, first visited the church in 1971 when he was an undergraduate and said he "fell in love with it straight away".
He said: "The combination of the granite, the light, the space, just made me feel this is the kind of church I feel completely at home in.
"Ever since then, it's had a very special place in my affections.
"It's wonderful to have this connection. I'm so grateful."