Heiress Haley Meijer £2m blackmail: Man pleads guilty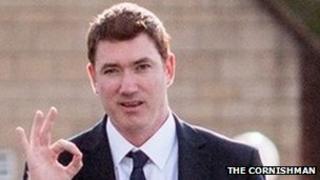 A 37-year-old man has pleaded guilty to trying to blackmail US heiress Haley Meijer out of £2m ($3.1m).
James Casbolt, from St Ives, Cornwall, admitted blackmail and stalking the hypermarket heiress.
He also pleaded guilty to harassment of former Great Britain junior surfer Tassy Swallow from St Ives and a third woman, named at Truro Crown Court as Simone Everett.
A pre-sentence report was ordered and Casbolt will be sentenced next year.
'Demand with menaces'
Casbolt, of Windsor Terrace, is the former husband of Ms Meijer.
Ms Meijer's father, Hank, is chief executive of American hypermarket chain Meijer, a company worth $9.5bn (£6.1bn) according to business analysts Forbes.
Casbolt faced a charge of blackmail on 27 February 2014 when he "made an unwarranted demand of £2m from Haley Meijer with menaces".
He also faced a second charge of "stalking involving serious alarm or distress" between 1 October 2013 and 9 July 2014.
'Family matter'
The charge stated he "sent threatening and offensive texts and emails and posted threatening and offensive messages and images on social websites which amounted to stalking and caused Haley Meijer serious alarm or distress".
A spokesman for the Meijer company said the issue was "a family matter" and did not want to comment further.
Casbolt was further charged with harassment of both Simone Everett and Tassy Swallow on 20 September 2014.
In both counts Casbolt was charged with sending offensive and threatening Facebook messages which caused the victims "to fear on at least two occasions, that violence would be used" against them.
Ms Swallow, 20, is a professional surfer from St Ives who represented her country four times as member of the junior British surf team.
In 2012 she was chosen as an Olympic torchbearer and took over the flame from sailor Ben Ainslie at Land's End.