Towan Beach promenade storm damage repairs begin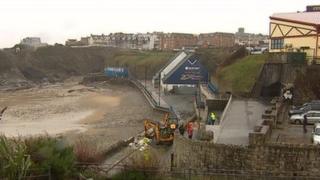 The final project to repair coastal damage caused by last winter's storms is under way in Cornwall.
About £950,000 is being spent on patching up the promenade at Towan Beach in Newquay.
The area has been cut off after the walkway was badly damaged. Beach huts were also destroyed.
Councillors said they hoped the work would be completed by the Easter bank holiday, in time for the start of the tourist season.
'Countywide damage'
The project is part of £21m of repairs identified by the government and Cornwall Council as being necessary after the severe winds and tidal surges of last February.
The government has provided more than £20m to carry out the work.
Five shipping containers filled with rocks are providing a barrier at Towan to allow the work to be carried out.
Cornwall councillor Geoff Brown said: "Hopefully be completed in time for the next season.
"I think it really brought home to visitors the damage the county suffered."
"Devastating" weather in south-west England last winter saw coastal areas battered, as well as people evacuated from damaged homes, boats sunk and railway lines closed.