Widow launches new Cornwall air ambulances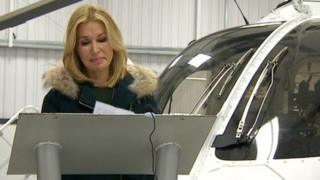 Two new air ambulances for Cornwall have been officially launched by the widow of a man who died in a boating accident.
Nick Milligan, 51, and his daughter Emily, eight, died after being thrown overboard from their boat in May 2013.
Mr Milligan's widow Victoria, who has raised £270,000 for the helicopters said: "It's a very positive outcome of a very tragic accident."
One of the aircraft has been dedicated to her family.
All six members of the Milligan family, from London, were thrown out of the boat in Cornwall during the accident.
Sky TV executive Mr Milligan and his daughter died as the boat circled out of control.
'Cornish angels'
Mrs Milligan lost a leg and her other three children were injured, one seriously.
The helicopters, which were officially launched at a ceremony at St Mawgan near Newquay, will have the ability to fly at night thanks to equipment paid for by Mrs Milligan's fundraising.
She said: "I think of two little Cornish angels flying around and it gives me great comfort to think of them together helping people in Cornwall.
"That's an amazing thought that we as a family can have with us always."