Mobility scooter river fall man 'blinded by sun'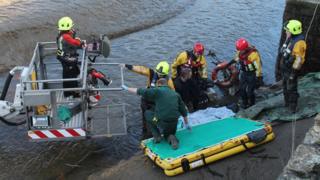 A 93-year-old man who drove his mobility scooter into a river in Cornwall said he had been blinded by the sun.
The man, who only wanted to be identified as Ernest, was rescued after plunging 15ft (4.5m) into the river in Truro at low tide on 6 January.
He was winched across the river by fire crews using an aerial platform and taken to the Royal Cornwall Hospital.
His vehicle was written off but he only suffered minor injuries.
'Going over'
More than 30 firefighters attended the incident, as well as coastguard, police and ambulance staff.
He said: "The sun got me straight in the face and I suddenly felt myself going over.
"I realised I was stuck in the mud and I couldn't move. I lost my lost shoes, glasses and hearing aid.
"I was fairly alright. I wasn't frightened."
He added: "I shan't fall in that river again, but I must get another scooter. I'm stuck here [at home] otherwise."