Patrick Curran jailed for life for murdering Joan Roddam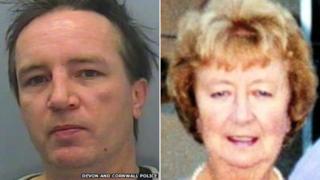 A man with a fetish for older women has been jailed for life for the murder of a pensioner in her Cornwall home.
Patrick Curran was 27 when he strangled 74-year-old widow Joan Roddam at her home in Delabole, in November 2003.
The judge at Truro Crown Court said she had been "almost certainly" resisting his sexual advances.
Curran, 38, was arrested at the time but was not charged until 2014 as a result of new forensic evidence. He will serve a minimum of 18 years.
Judge Graham Cottle said Curran - who was found guilty of murder last week - went to the house because of his sexual interest in older women, but Mrs Roddam probably rejected him.
"Whether that angered you sufficiently to strangle her or you killed her to silence her I do not know," he said.
Curran, of West Down Road, Delabole, wrapped the body in a blanket and tried to hide it under a wheelbarrow in a field.
The attacker, described in court as a "loner", visited pornographic websites on his computer featuring women in their 70s and older.
Several days before the murder - which was carried out less than a mile from his home - he had visited a doctor complaining of a "very high libido".
Officers also discovered he had burned clothes, as well as a computer hard disk drive, in his parents' garden.
However, at the time they did not believe they had enough forensic evidence to place him at the scene.
Ten years later, police began a cold case review and officers were eventually able to match fibres found in Mrs Roddam's house to his clothes.
DNA found on the blanket Curran used to wrap around Mrs Roddam's body linked him to the scene.
Forensics experts described the chances of the DNA not being Curran's were "a billion to one", the trial heard.
Judge Cottle said: "I do not believe that it is appropriate to express any view as to the quality of the decision making that allowed the proper resolution of this case to remain outstanding for so long, thereby prolonging the stress and anxiety for those to whom Joan was near and dear."
Curran refused to attend court throughout the trial and did not have legal representation.
Judge Cottle said: "The court is at a loss to understand your attitude or what you considered you could achieve by it."
The decision in 2003 to arrest Phil Williams, a grocery delivery driver who first raised the alarm, was "bordering on the incomprehensible", the judge added.
In response to his comments, Mr Williams said: "It's just been a never-ending thing going on and we are delighted it's now finished."