Cornwall councillor Alex Folkes 'still a risk to children'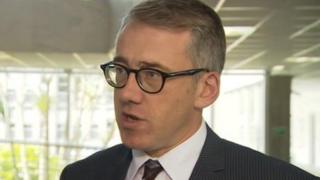 A Cornwall councillor continues to pose a "serious and enduring risk" to children, a review has found.
The conclusion comes after Cornwall Council issued a warning last November to schools and clubs in Launceston not to allow Alex Folkes near children.
The authority and police have since reviewed information provided by Mr Folkes and said the concern remains.
Mr Folkes denied wrongdoing and said he was cleared by police in 2006 after his credit card was cloned.
A council spokesman said: "The Local Authority Designated Officer (LADO) meeting unanimously confirmed the previous judgement that Alex Folkes poses a serious and enduring risk to children."
'Secret kangaroo court'
The council said the decision to confirm the previous judgment was "supported by additional and extensive information provided by the Metropolitan Police since the original LADO process was held".
Mr Folkes stood down from his cabinet position on Cornwall Council in November 2014 but remains as council member for Launceston Central.
In a response to the statement on his blog, he condemned the LADO process as a "secret kangaroo court".
He said the council had been alerted to a 2006 Metropolitan Police inquiry after his credit card number was linked to a child pornography website.
He said: "The council say they have other secret information they can't share with me and which they choose to believe over the documents I have received from the Met and my bank."
Mr Folkes said the information he received from the Metropolitan Police stated "categorically, that no indecent images were found on my computer".
He said: "If the council believe they have verifiable proof then they have a duty to let me see it and to comment on it."