Joan Roddam murder arrest man wants apology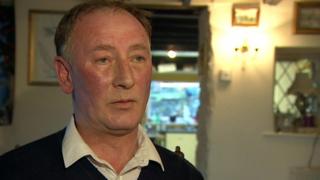 A man wrongly arrested for the murder of a Cornwall pensioner has called for an apology from police.
Philip Williams from Valley Truckle, Camelford, north Cornwall, said police had jumped to conclusions too fast and his marriage had failed as a result.
Patrick Curran, 38, was jailed for life on Tuesday for murdering Joan Roddam.
Devon and Cornwall Police said they were unable to comment on individuals but were in communication with a man who was arrested after the murder.
Mr Williams was arrested five days after the body of Mrs Roddam, 74, was found in a field adjoining the garden of her bungalow home at West Downs, Delabole, on 8 November 2003.
He was questioned a number of times by detectives, arrested and then bailed.
But a week before he was due to attend the police station again, he received a letter from police saying he was no longer required to surrender to bail.
'Heart attack fear'
The father of four said: "I had known them for many years and had been in every room of the house, fixing radiators and doing other jobs.
"I was worrying they would get it wrong because my DNA was all over the house.
"But they didn't seem to be looking for anyone else at the time."
He said the trauma of being under suspicion meant he could no longer concentrate and he had to give up his mobile shop business.
He said that when he was arrested his "chest went all tight".
He said: "I thought I was going to have a heart attack.
"I felt down in the dumps all the time and it affects your marriage because I didn't want to go anywhere or do anything."
Curran, who had a fetish for older women, murdered Mrs Roddam after she rejected his sexual advances, Truro Crown Court was told.