Cornwall sea fall: Hope fades for missing Shane Galliers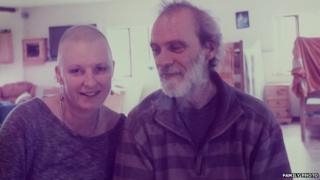 Rescuers say there is little hope of finding a man who was swept out to sea in Cornwall.
Shane Galliers, 51, was scattering the ashes of his sister at Trebarwith Strand near Tintagel on Saturday afternoon when he fell into the sea.
There has been no sign of Mr Galliers despite air and sea searches.
Mike England, of Padstow RNLI, said: "You always try to hang on to some hope but it's unfortunate that it's now not looking very good."
Coastguards said Mr Galliers, from Launceston, was caught by a large wave.
Two other members of the group he was with went into the sea in an attempt to rescue him but were unsuccessful.
Two coastguard rescue teams from Boscastle and Port Isaac, the Padstow RNLI Lifeboat and a search and rescue helicopter from RMB Chivenor all assisted the operation during a four-hour search on Saturday.
The Maritime and Coastguard Agency (MCA) said no further searches were planned.