School sports day row: Governor given restraining order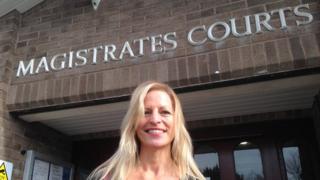 A school governor has been given a restraining order, banning her from contacting the head teacher, after a sports day row broke out.
Ingrid Chenoweth accepted a four-year restraining order, forbidding her from contacting Karen Middlemore, head of St Mawes Community Primary, in Cornwall.
Mrs Chenoweth, 49, was acquitted of assault but can only contact Mrs Middlemore at school governor meetings.
The row took place in June last year, Truro Magistrates' Court heard.
Speaking after the hearing, Mrs Chenoweth, from St Just in Roseland, said: "I am very relieved to have been exonerated today.
"I have always maintained that there was no physical contact between Karen Middlemore and me."
'Difficult time'
The order also states Mrs Chenoweth must "not do anything which directly causes harassment, alarm or distress to Karen Middlemore".
The exact circumstances of the alleged assault were not made clear in the hearing.
Mrs Chenoweth, who is a parent of children at the school, said she looked forward to "addressing the communication issues which underpinned the incident".
Following the hearing, Cornwall Council, on behalf of the school, said it hoped the court's decision would "help to draw a line under this issue".
A council spokesman said it had "been a very difficult time for the school" and staff and governors had "acted with great professionalism in dealing with this matter".
The restraining order forbids Mrs Chenoweth from contacting Mrs Middlemore "directly save when participating in any mediation process arranged by the local authority or when attending a meeting of the board of governors".