'High suicide risk' man, 80, killed himself after leaving care home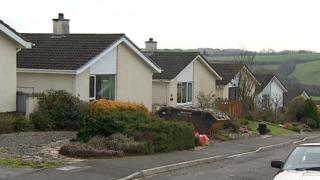 A pensioner deemed at "high risk" of taking his own life, killed himself after he was sent home from a care home, an inquest heard.
George Taylor, 80, had been taken to the home because there were no mental health unit beds available, the hearing in Cornwall was told.
He had earlier been admitted to the Royal Cornwall Hospital after taking an overdose, on 24 June 2013.
Mr Taylor was later found dead at his home in Probus.
The inquest was told he was referred to the Brake Manor care home in St Austell because beds were not available at Longreach mental health unit.
Mr Taylor's GP told the hearing he had a history of alcohol abuse and mental health problems.
'Pokey room'
The pensioner had lived alone but regularly visited his wife at a local nursing home.
At the Royal Cornwall Hospital, he was assessed as being a "high risk" of taking his own life, and it was recommended he should not return to his home, but be admitted to the mental health unit.
Mr Taylor, who was also assessed before he left the care home, was found to have no evidence of severe or moderate depression, the inquest heard.
In a statement, his neighbour Gillian Burnell said he had told her he had been put in a "pokey room with no window", and it was dirty.
Less than 24 hours after leaving Mr Taylor was found dead.
The inquest continues.