Pensioner suicide: Coroner to write to health secretary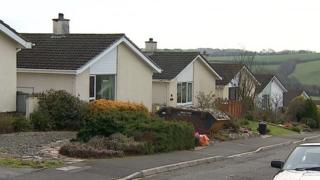 A pensioner's suicide has prompted a coroner to write to the government over a "lack" of hospital beds for mental health patients in Cornwall.
George Taylor, 80, was deemed a "high risk" of taking his own life and was taken to a care home because there were no appropriate beds available.
Less than 24 hours after being sent home from the care home Mr Taylor was found dead.
An inquest jury returned a verdict of suicide.
Social isolation
Andrew Cox, the assistant coroner, said the immediate lack of a bed did not contribute to Mr Taylor's death. However, he said that an "ongoing shortage" of appropriate beds was a concern to him.
He said he would write to the health secretary, Jeremy Hunt, and the Kernow Clinical Commissioning Group to express his concerns.
Truro Coroner's Court heard that Mr Taylor had ongoing mental health problems and had twice taken an overdose. His wife was in a home with dementia and he had no close family, and suffered from social isolation.
He was admitted to the Royal Cornwall Hospital after taking an overdose in June 2013 and was assessed as being a "high risk" of taking his own life.
It was recommended he should not return to his home, but be admitted to the mental health unit.
The inquest was told he was referred to the Brake Manor care home in St Austell because beds were not available at Longreach mental health unit. He was later found dead at his home in Probus.