Warning on Royal Cornwall Hospital blood test delays in cuts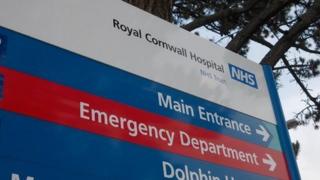 Health watchdogs say patients waiting for blood test results could suffer if outsourcing the service goes ahead.
Bosses at the Royal Cornwall Hospital Trust (RCHT) want to "market test" its IT, pathology and sterilisation departments to save money.
The hospital was £5.6m in debt in December, say managers.
West Cornwall Healthwatch said taking away the pathology department's work on blood and urine testing could cause delays.
The hospital said it was "exploring whether another private or public service organisation could provide these services with the potential for staff to transfer across to that organisation".
"The main reasons for taking this approach are to secure additional investment, support and expertise as well as ensure taxpayers' money is spent efficiently in the NHS," it said.
But Jane Varker, chair of of West Cornwall Healthwatch, said: "My concern is that to save money they will take away a lot of the routine work like blood and urine testing out of the county to a larger lab somewhere else.
"This will mean delays for GPs and community hospitals getting their results. Potentially a very serious blood test result may get delayed for a week and a patient may be damaged."