Falmouth ex-soldier's family eviction decision overturned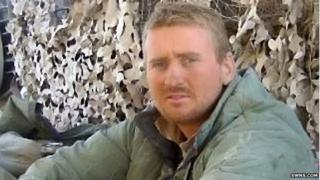 A decision to evict a former soldier and his family has been overturned, a council has confirmed.
Jamie Streets, 34, his wife and four children were facing removal from temporary council accommodation in Falmouth, Cornwall.
Cornwall Council claimed they made themselves intentionally homeless from the private rented sector prompting the eviction, but this has been withdrawn.
Mr Streets' wife Charmaine said it was a "weight lifted off our shoulders".
"I do think it's alarming that this can happen," she said.
"I don't think it should happen to anybody and I hope it doesn't happen to anybody else in a similar situation to ourselves."
Mr Streets served 15 years in the army, in Kosovo and Afghanistan, before returning to the UK in 2008 and joining the Household Cavalry Mounted regiment.
After being thrown from a horse he was diagnosed with a malignant brain tumour and medically discharged from the army in 2013.
The family then moved to Falmouth where Mrs Streets, 37, was born and grew up, and had been in temporary council accommodation since last July.
'Intentional homelessness'
The family were living in privately rented accommodation but served notice because they could not afford to stay without relying on housing benefit, a type of tenant the landlord did not accept.
Mrs Streets said the family was supported throughout their case by the UK Homes 4 Heroes charity.
Cornwall Council confirmed the family will be provided with temporary accommodation until a permanent solution is found in the private or social housing sectors.
A spokesman for the council said: "Having considered this additional information the review has concluded that it would not have been reasonable to continue to occupy their privately rented tenancy and has, therefore, overturned the original decision of intentional homelessness."