Girl given MMR vaccine against family's wishes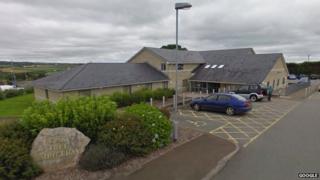 The mother of a girl says she is "so angry" her daughter was given an MMR vaccination against the family's will.
Julie Rowe's 15-year-old daughter Alicia went to Oak Tree Surgery in Liskeard, Cornwall, for a meningitis jab, but the nurse decided to give her the MMR injection as well.
Mrs Rowe said she had not wanted Alicia to have the MMR jab due to the family's medical history.
The surgery said the "one-off" occurrence "will not" happen again.
Choice 'taken away'
When being given the MMR vaccination last month, Alicia said she protested twice that her mother was in the waiting room and they should get her, but the nurse went ahead anyway.
When told by her daughter, Mrs Rowe confronted the nurse, who said she believed Alicia to be Gillick competent [considered mature enough to give medical consent despite being under 16].
MMR vaccine
Combined vaccine against measles, mumps and rubella - three common infectious diseases of childhood
Introduced in the UK in 1988 to replace single vaccines for each disease
The first MMR vaccine is given on the NHS as a single injection to babies as part of their routine vaccination schedule, usually within a month of their first birthday
They will then have a second injection, known as the MMR booster, before starting school, usually between the ages of three and five
In 1998, a study published in medical journal The Lancet raised the possibility that the jab might be linked to autism and bowel disease, leading to panic among parents. The journal accepted the claims were false in 2010
Source: BBC Health
Mrs Rowe said: "If my daughter wanted to go ahead with the vaccination later, then that's her choice. But she had that taken away from her, and that made me so angry."
Surgery senior partner Dr Stephen Jefferies said: "As a result of this incident, immunization procedures for children and adolescents have been changed.
"A letter has already been sent from the practice to Mrs Rowe concerning these changes and apologising. A further letter has also just been sent to Mrs Rowe from the nurse involved.
"The surgery would like to assure patients that this one-off occurrence will not be allowed to happen again.
"We understand that there are still some parents who are concerned about the safety of immunisations, particularly in relation to MMR and autism.
"Although much publicity was given in the media to the possible link between MMR and autism, there has been less publicity when these findings were discredited."