St Agnes Barclays: Cable joins calls to keep bank open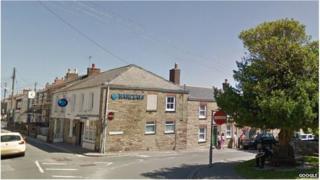 Business Secretary Vince Cable has called on Barclays to keep open the last bank in a Cornish village.
He said in the House of Commons he had discussed the closure of the St Agnes branch with the bank's chief executive.
More than 2,800 people have signed a petition calling for the branch in the village of about 7,000 to be saved.
Barclays said the number of customers using the branch had fallen by 40% since 2008 and customers could withdraw cash at the local post office.
Barclays announced year it planned to close the branch on 20 February.
Mr Cable told Sarah Newton, Conservative MP for Truro and Falmouth: "We recognise the need in St Agnes for a bespoke solution, since the post office is not the ideal vehicle, and I think we are working towards a satisfactory outcome."
Barclays community leader for Cornwall, Michael Watts, said more than three quarters of customers regularly used alternative branches.
He said: "In addition to the option of online, telephone and mobile banking, customers can undertake everyday personal transactions at the nearby Post Office located at the Nisa store, St Agnes, and at Short Cross Road, Mount Hawke."