Storm-hit Kingsand clock tower reopens after £600,000 repairs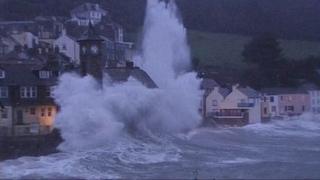 A storm-battered clock tower has reopened following a £600,000 restoration.
The landmark building in Kingsand, Cornwall, was damaged when waves destroyed some of its foundations last winter.
The hole created by the storms was large enough for a bus to fit inside, said Clive Davies, chairman of Maker with Rame Parish Council.
The Grade II listed building opened to villagers earlier.
After the storms, engineers said it was extremely close to being demolished, with supports having to be put in place to keep the building upright.
Mr Davies said: "It was certainly 50/50 whether we could save it."
He said the £600,000 had come from fundraising, the insurance company and central government.
A sea defence has also been built to protect the tower from future storms.
Mr Davies said: "The opening will allow villagers and visitors to see what has happened."
An official opening will be held later in the year.