NHS Kernow abandons £75m privatisation plan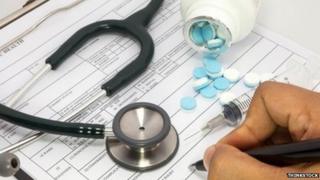 Plans to privatise up to £75m worth of NHS services in Cornwall have been abandoned, bosses have confirmed.
Last year, NHS Kernow was asking for bids to run services including outpatient appointments, follow ups and non-complex operations in cardiology, gynaecology and general surgery.
However, the clinical commissioning group said procurement of the services was now not the way forward.
Union bosses welcomed the decision calling it a "turning point".
'Re-focus energy'
Stuart Roden, from Unison, said: "It's much better to talk internally with other NHS providers inside the NHS."
Mr Roden said he hoped it was a "turning point", which could result in other services staying public.
NHS Kernow said that since May 2014, its vision to create a joined-up health and care system had "evolved and affected the type and number of services".
Dr Rob White, from the group, said: "NHS Kernow is challenging itself on what it wants to deliver, what is in patients' best interests and how it can achieve its priorities to improve people's health and wellbeing, improve their experience of care and support and to reduce costs in the system.
"This, combined with a re-focus of where energy is needed in the system, means that a competitive procurement will not deliver what is needed."
NHS Kernow, which has a budget of £700m, is the clinical commissioning group for Cornwall and the Scilly Isles.
Funded by government, CCGs buy health services on behalf of patients and can spend the money on NHS or private providers.