Carn Brea Castle windows smashed by vandals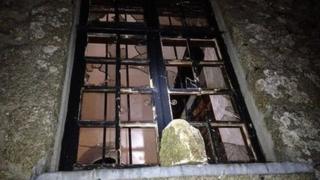 Vandals have smashed dozens of windows at a castle in Cornwall.
Rocks and boulders have been thrown through 47 windows at Carn Brea Castle near Redruth.
The castle is now a privately run restaurant and Andy Sawalha, whose parents are the owners, said they have had to cancel numerous bookings as a result.
Devon and Cornwall Police are asking anyone with information to come forward.
Mr Sawalha said he believed the vandals had thrown rocks through "almost every window".
"We think it would take a good hour to cause this damage.
"We've had the business 26 years and we've never had anything like this."