'Benefits mistake' prompts Labour candidate Hanna Toms to stand down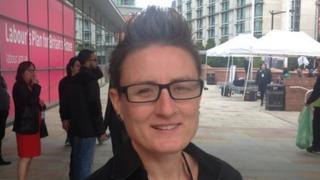 A Labour party general election candidate has admitted a "benefits mistake" prompted her to stand down.
Hanna Toms withdrew as prospective parliamentary candidate for Truro and Falmouth on 9 February and resigned as Labour group leader at Cornwall Council.
She has now revealed she was "overpaid housing and related benefits".
Ms Toms said she wanted to apologise publicly "in the interests of openness and transparency".
She will remain as Cornwall Council member for Falmouth Penwerris.
She said: "The problem arose because I was under the impression that as I had advised HMRC (Her Majesty's Revenue and Customs) of my changes in income, that information would then be passed on to the council. I was wrong."
Ms Toms said she fully accepted it was her responsibility to advise the council of any change in circumstances.
'Honourable thing'
"It was a genuine mistake. On being advised of the situation, I have paid back all the benefits I received that I was not entitled to," she said.
Tim Dwelly, who took over as Labour group leader at Cornwall Council, said Ms Toms had "done the honourable thing".
He said: "I am sure Hanna had no intention whatsoever to receive benefits any higher than she was entitled to."
The Department for Work and Pensions would not comment on whether it was currently investigating Ms Toms.
Cornwall Council said the matter was "a personal issue".
Sarah Newton won the Truro and Falmouth seat for the Conservatives at the 2010 election with a majority of 435.
Labour will meet on Friday to select a new candidate.