Cornwall hospitals ranked 'in worst 20%' in staff survey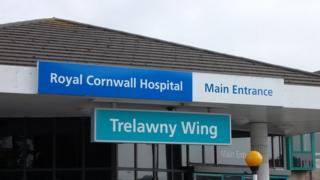 The Royal Cornwall Hospitals Trust (RCHT) is in the lowest 20% in England for key areas, such as a recommend place to work, a survey has revealed.
In the 2014 NHS staff survey, which collects the experiences of NHS staff, RCHT also fell below the average level as a recommended place to be treated.
Health workers' union Unison said low morale was due to extreme pressure on services.
The RCHT said the NHS England survey results were "extremely disappointing".
Almost 290 organisations took part in the survey, which also records staff opinions, NHS England said.
About 2,200 RCHT staff took part in the survey, 45% of the trust's total staff.
Its results said the trust scored 3.00 out of five, in the category of staff recommending the trust "as a place to work or receive treatment", among the lowest 20% in England.
It is below the 2014 average for acute trusts across England in 2014, which saw a median of 3.67.
Stuart Roden, from Unison, said: "The fear of privatisation is really worrying many."
Some hospital services were taken over by Mitie last October, with plans to outsource pathology, the central sterile services department and information technology services under discussion.
Mr Roden said: "Staff feel like they're being sold like packs of Corn Flakes or bars of soap. There's no loyalty or trust there, all that has gone now."
In a statement, RCHT acknowledged the effect of "unpopular decisions on hotel services and staff car parking".
It added financial challenges meant it would "need to continue to make difficult choices to prioritise patient services".
Health commissioning group NHS Kernow tweeted the county was off black alert after more than a week but added "we're still under pressure".