A lonely monkey goes on first date after partner dies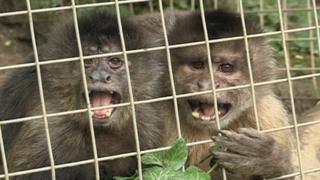 Daisy, a lonely 50-year-old monkey, has gone on a successful first date following the death of her partner.
When her companion died Daisy's owners asked the Wild Futures monkey sanctuary in Looe, Cornwall, to take her on and introduce her to new friends.
Keepers at the sanctuary were encouraged when they saw Daisy and her date Pepe "ganging up" on keepers.
Daisy was first rescued from a pet shop in 1980 and was found to have cigarette burns and broken fingers.
Claire Turnbull from Wild Futures said: "She did have a companion but he sadly died and the owners have luckily realised she shouldn't be on her own."
Daisy spent six weeks in quarantine at the sanctuary before she was introduced to Pepe, described as "a very friendly chap".
Ms Turnbull said: "What they're actually doing there is what we call ganging up behaviour so it's the two of them threatening the camera, the keepers and by doing that they form a bond with one another."
The sanctuary said capuchins were a particularly intelligent, social species that naturally lived in the rainforests of South and Central America.
All of the keepers at the sanctuary live on site to provide 24-hour care for the animals.
Ms Turnbull said: "The really nice thing is to see the way they come in and how they recover and develop and end up with monkey friends."
See more on BBC Inside Out South West on Monday 3 March at 19:30GMT.