World Pasty Championship: Victory for Cornish singer's mother, 88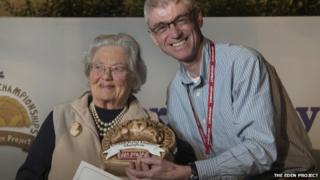 The 88-year-old mother of Cornish sea shanty singer John Lethbridge has been named world pasty champion.
Betty Lethbridge, mother of Fisherman's Friends singer John, won the Cornish pasty amateur title at the World Pasty Championship, held at the Eden Project.
Entrants came from as far afield as the US, Mexico and Canada as well as from across the UK.
Richard Shaw, a pasty maker from Hampshire, failed to pick up a prize despite producing a pasty costing £230.
Mrs Lethbridge, from St Kew, Cornwall, has been making pasties for 80 years.
She said: "I started when I was eight years old. Mother used to make pasties so I used to roll the pastry out on a bench.
"You need to get really good meat to make a pasty and the seasoning is important."
Andy Heath, from Bodmin, took the coveted Cornish pasty professional title at the contest held on Saturday.
Mr Shaw's pasty used wagyu beef flown in from Japan, peppercorns from India and potatoes from Illinois, US.