Cornwall stadium: Council recommends refusal of plans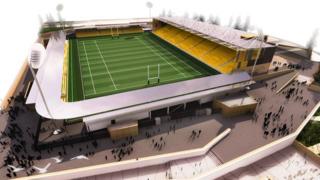 Council officers have recommended refusing plans for a supermarket which would pay for a stadium for Cornwall.
Developers Inox have said they would contribute £8m from the supermarket deal to build a 6,000-seat stadium.
Cornwall Council members will vote on the plans and four other major retail developments in Truro next week.
A spokesman for the partners behind the stadium project expressed "disappointment" but said the final decision would be up to members.
Truro and Penwith College would contribute £2m to make up the £10m needed to build the stadium on the edge of Truro for use by the Cornish Pirates rugby club.
The planning report states: "The adverse impacts of the proposal are considered to significantly and demonstrably outweigh its benefits."
The report points to "critical doubts over the enabling development mechanism and its deliverability" as no supermarket has signed up to the scheme.
A spokesman for the partners involved in the Stadium for Cornwall project, which includes Truro and Penwith College, the Cornish Pirates, Inox Group and Henry Boot Developments, said they had put forward a "robust" application.
The spokesman said: "We are disappointed by the officers' recommendation, but it is only a recommendation. It is now up to members of Cornwall Council to decide the fate of the stadium."
Council officers have also recommended refusal for retail development plans on the current Truro City Football Club site which would pay for a planned new ground for the club.
Officers have recommended approval for a development at Willow Green which would include 435 homes, a nursing home, a primary school, a supermarket and filling station.