Royal Cornwall Hospital staff stress absences rise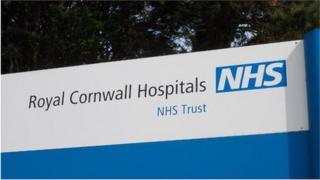 The number of staff at the Royal Cornwall Hospitals Trust taking time off work because of stress has risen by nearly 50% over the last four years.
In 2011, 320 people were signed because of stress, anxiety or depression.
Last year it rose to 453, according to a BBC Freedom of Information request.
The trust said staff health was a "big priority" in an "increasingly demanding NHS" but it recognised it had more to do to prevent absences.
'Growing issue'
The total number of days lost due to all types of staff sickness and ill health rose from more than 71,000 to more than 80,000 over the same period.
The estimated cost to the hospitals trust of employees signing off work due to anxiety and depression or other psychiatric illness had gone up by more than £165,000 over the same period, to £1.3m.
A staff survey carried out at hospitals in England and published last week revealed that the trust was in the lowest 20% for staff motivation and job satisfaction.
Nick Macklin, director of the trust's human resources, said: "Stress-related absence is a growing issue for employers across the UK and one that is particularly acute in pressured public services.
"We offer a wide range of courses, activities, guidance and counselling services to help colleagues manage and prevent stress.
"We recognise that we have more to do though to prevent absence from work and create a health and social care system that looks after staff as well as patients."