Dawn French installed as Falmouth University chancellor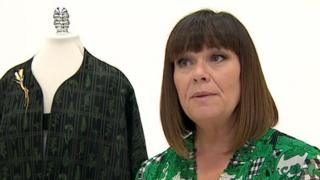 Actor and comedian Dawn French is being formally installed as the new chancellor of Falmouth University.
Ms French, who lives in the county, said she had never been a chancellor before and planned to find out how she could best serve the students.
Students from the university - which was inaugurated in 2013 - designed the robes for her to wear.
To mark the event, a ceremony will also take place at King Charles the Martyr Church in Falmouth.
Talking about her outfit, Ms French said: "Honestly I couldn't be more delighted, it's a very modern shape, very contemporary and I've got a crown.
"It's so beautiful, I couldn't be doing with those Tudor bonnets that people wear.
"Honestly I think they make everyone look a bit like a hobbit."
The TV star played Geraldine Granger in BBC One sitcom The Vicar of Dibley.
She also starred in sketch show French and Saunders - with her comedy partner Jennifer Saunders - and Jam and Jerusalem.