Cornwall healthcare merger plan abandoned after study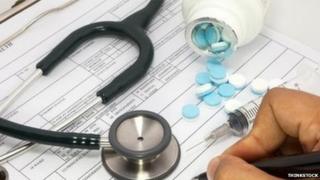 Plans to merge two of the largest healthcare providers in Cornwall have been abandoned.
Last July it was announced Peninsula Community Health and the Cornwall Partnership NHS Foundation Trust could merge under cost-saving proposals.
But the plans have since been abandoned after a study looked at the financial implications of the plans.
Campaigners said the decision was disappointing, describing the merger as the "sensible way forward".
Graham Webster, the vice chairman of Health Initiative Cornwall, said the merger was being considered because the organisations were small and a merger would make them "more sustainable".
'Mustn't rush'
He said it was "really disappointing news" the plans had been abandoned and it would have "brought adult community health services back into the NHS".
Peninsula Community Health, a not-for-profit company formed in 2011, provides community health services to adults and runs Cornwall's cottage hospitals, minor injuries units and district nursing teams.
Sarah Newton, the Conservative MP for Truro and Falmouth and a former GP, said: "It's really important they get this right and don't rush into things even though it can be frustrating."
In a joint statement, the NHS foundation trust and Peninsula Community Health said as a result of the study "a full formal 'merger' will not be taking place imminently".
"Our organisations remain committed to providing high-quality healthcare services and continue to support NHS Kernow's vision for integrated healthcare as part of a sustainable NHS for the benefit of people's health and wellbeing across Cornwall and the Isles of Scilly."
The Cornwall Partnership NHS Foundation Trust looks after community health services for children and young people, as well as mental health and learning disability services for all ages.