More than 6,000 march in tribute of PC Andy Hocking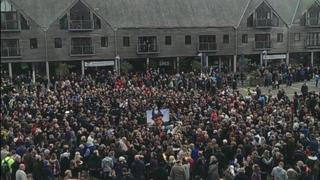 More than 6,000 people have taken part in a walk in memory of PC Andy Hocking, 52, who died while off duty.
PC Hocking, who served in the Falmouth Neighbourhood Team and leaves a wife and two daughters, died on Sunday 8 March following a medical episode.
Local traders said there had been an "unprecedented outpouring of grief" from all corners of the community.
The walk covered PC Hocking's beat, starting at the Moor in Falmouth and continuing to the Maritime Museum.
His family led the procession, followed by members of Devon and Cornwall Police, Cornwall Fire and Rescue Service, the South West Ambulance Service and the RNLI.
Members of the public were invited to join the parade by walking behind the Falmouth Marine Band.
Organisers anticipated 2,000 people would join the march, and requested that during the walk participants "take time to talk to someone you don't know, as Andy would do so well, and share a smile, as Andy always did".
Falmouth Inspector Ian Thompson said: "It was with great sadness that I learnt of PC Andy Hocking passing away on Sunday.
"My, and the rest of Falmouth police's thoughts, are with his wife Sally and two daughters Gracie and Megan."