SS James Eagan Layne: 3D model to remember torpedoed ship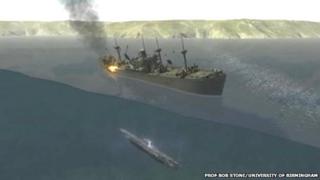 A 3D model documenting the moment when a ship loaded with military supplies was torpedoed by a German U-boat is being created to mark the 70th anniversary of its sinking.
The SS James Eagan Layne was struck off the Eddystone reef, Devon, in 1945 but all of its 69 crew survived the attack.
The ship was beached in Whitsand Bay on the Cornwall coast and has since become a popular diving site.
Experts have also appealed for items salvaged from the wreck.
The vessel, which was travelling from Wales to Belgium in March 1945, was named after a merchant seaman who died earlier in World War Two.
Glen Blatchford, the grandson of a survivor, said: "The ship didn't go down immediately, they were trying to get it as close to shore as possible."
'Engines and boilers remain'
Bertha Honour, who witnessed the sinking and spoke of her memories in 1978, said: "Her bow was in the air and her stern was under the water and that's all we could see."
The vessel's mast remained above water for about 20 years.
Peter Holt, from the Liberty 70 Project, which is behind the anniversary commemorations, said: "The ship is largely intact. She's upright sat on the seabed.
"You can see some of the cargo she was carrying and the engines and boilers are still there."
Project organisers want owners of objects recovered from the wreck to come forward in a bid to help document its history.
Prof Bob Stone, who is behind the 3D model, said it would focus on the torpedo attack and also look at how the wreck had deteriorated.
He hopes the first version will be available in the next few months and will be uploaded online.
The Liberty 70 Project is funded by charity ProMare UK.