Cornwall farmers banned for life from keeping animals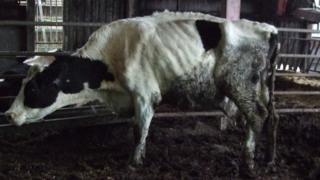 Two farmers have been banned from keeping animals, after causing unnecessary suffering to livestock.
Thomas Collins, 67, and brother Paul, 50, from Gweek, Cornwall, were found guilty of 17 charges of failing to care for their cattle, sheep and pigs.
An animal health inspector found a lame cow stuck in a ditch and another cow which had collapsed in the farm yard.
They were sentenced to four months in prison, suspended for two years, at Truro Magistrates' Court.
The brothers, from Trenoweth Farm, were also ordered to pay £12,000 each in costs.
The court heard inspectors made repeated visits to the farm to offer advice but said their advice was not acted upon.
The charges came after inspection visits made to the farm in 2012, 2013 and 2014.
A defence lawyer for Thomas Collins said he had been farming for 40 years without any issues but problems started after the farm became infected with TB.
District Judge Kevin Gray told them: "There was a systematic failure to adequately treat lame animals and to properly care for the various animals involved."
Cornwall Council cabinet member for communities, Geoff Brown, said: "The public protection and business support service will always strive to assist Cornish businesses, including farms.
"However, when a case of serious neglect such as this is discovered, they will take appropriate action.
"The Collins brothers have shown total disregard for the most basic of needs of animals in their care."