Crown Currency director 'resigned year before collapse'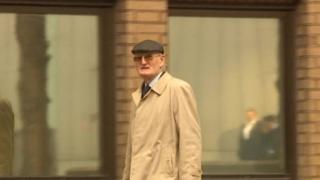 A former director of a currency exchange firm that collapsed with debts of £20m told a jury he resigned from firm a year before it entered administration.
Edward James, 75, told Southwark Crown Court he had retired from Cornwall-based Crown Currency Exchange in 2009.
Mr James, from Glastonbury, Somerset, is accused of fraudulent trading and false accounting.
He and five other defendants deny all charges against them.
Before its collapse with assets of £3m in October 2010, it was one of the country's largest personal currency exchange businesses. More than 12,000 people are believed to have lost money when it collapsed.
Mr James, a former mayor of Glastonbury, told the jury he retired from the firm on his 70th birthday in December 2009.
But the backdated papers were not filed at Companies House until 27 September 2010 - a week before the company went into administration on 4 October 2010, the court heard.
Cross examining Mr James, David Etherington QC, asked: "Is the reality of what happened here that you've convinced yourself that you retired in December 2009, but you know in fact you didn't get round to it?"
"No. I had resigned," insisted Mr James.
"You wish you had resigned?" Mr Etherington probed.
He replied: "I wish I had more clear documentation. I retired. Full-stop."
The case continues.