Three men suffer nitric acid burns on ship off Cornwall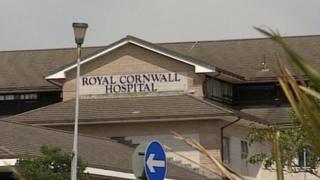 Three men have suffered burns from nitric acid while on board a ship off Cornwall.
The ship took shelter near Mounts Bay after an initial rescue at 22:00 BST on Sunday failed due to poor weather conditions, the coastguard said.
The men were airlifted to Royal Cornwall Hospital.
The Panamanian registered Bochem Oslo vessel had the highly corrosive acid on board for maintenance reasons. No cargo was on board.
'40ft movement'
Commander Scott Armstrong, who was flying a helicopter from RNAS Culdrose, said the swell 20 miles (32 km) off St Ives was a problem.
"We estimated there was about a 40ft movement on the ship, it was just too much, it was moving around too quickly," he said.
It is understood the tanker was en-route to Germany to pick up cargo.