Ebola aid ship Argus welcomed home to Falmouth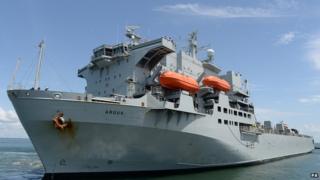 A Royal Navy ship used to help curb the spread of Ebola in Africa has returned from a six-month deployment in Sierra Leone.
Families were reunited with crew members as RFA Argus docked in Falmouth, Cornwall.
The Royal Marines Band Service and two Merlin helicopters from RNAS Culdrose welcomed the ship upon its arrival.
Surgeon Rear Admiral Alasdair Walker said the crew had made a "significant contribution" to fighting the disease.
Argus deployed to Sierra Leone from Falmouth in October to support medics fighting Ebola.
Admiral Walker said: "She assisted in establishing medical treatment centres across the country, helping to move vital equipment, supplies and food packages to remote areas of Sierra Leone, which were often inaccessible by road."
Naval nurse, Chief Petty Officer Fiona Swain said: "It was an unusual operation and it worked really well."
She said she planned to enjoy a "late Christmas" with her family.
Professor Paul Cosford, director for health protection at Public Health England, said all returning personnel had been screened and would be monitored for Ebola.
He said: "The return of the ship to the UK presents no risk to the general public."
The ship will be in Falmouth for three months of repairs.