Nick Clegg defends one-mention Lib Dem leaflet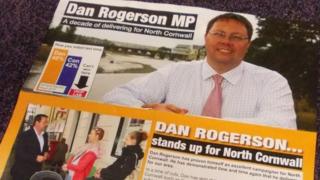 Nick Clegg has defended a Liberal Democrat candidate's campaign flyer which only mentioned his party's name once.
The promotional leaflet, in support of Dan Rogerson, was criticised over its single reference to the party in an address for sending donations.
Lib Dem leader Mr Clegg said it was "perfectly normal" for a candidate to focus on themselves.
Cornwall North parliamentary hopeful Mr Rogerson was unavailable for comment.
Asked if Mr Rogerson was "ashamed" of his party, Mr Clegg said: "Sometimes people want to hear candidates talk about themselves, about what they think, and they don't want everything branded with party political branding.
"I think that's perfectly normal, I do it myself. Everybody does that."
Mr Clegg, who was visiting Bodmin Hospital with Mr Rogerson, added: "If Dan wanted to hide the fact he was a Liberal Democrat, I doubt he would stride into a local community hospital with the leader of the party."
The comments came after the Lib Dem leader faced similar questions about a leaflet issued by Chippenham's Duncan Hames during a visit to the Wiltshire constituency.
The provisional list of candidates for the Cornwall North seat is:
Julia Lingard (UKIP)
Scott Mann (Conservative)
Amanda Pennington (Green)
Dan Rogerson (Liberal Democrat)
John Whitby (Labour)