Levant Mine Easter children's event defended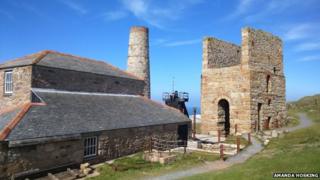 The National Trust has defended an Easter children's event at a mine in Cornwall where 31 men died nearly 100 years ago.
A relative of a miner who died when a man engine transporter broke at Wheal Levant, near Pendeen, in 1919, complained about the Easter trail.
Tim James said an Easter egg hunt did not fit in at a site comparable to "a war grave or a [ship] wreck."
The trust said children had been educated about mining life.
'Theme park atmosphere'
The copper mine's history can be traced back to 1748.
Its man engine, consisting of moving platforms to transport men up and down to shafts, suffered a disastrous failure in 1919 when a link snapped, the trust's website said.
The mine closed in 1930.
Mr James, from Penzance, whose grandfather died in the disaster, visited the mine over Easter to commemorate his death.
He said he was "amazed by the theme park atmosphere which had taken over", and criticised a viewing platform which allowed people to look into the shaft where the men died.
He said such events did not fit in at "a site that has the same kinds of atmosphere as a war grave or a [ship] wreck."
He added: "We're not against children's games, but there is a time and a place ... and Levant is not that."
Trust mine custodian Anthony Power said Mr James was "slightly misunderstanding what we're trying to do".
"It was an Easter trail, not a hunt. Children would get an egg at the end of the trail and they followed it around the site.
"People go away understanding more about mining and the lives these people led."
He added the trust had contacted relatives of the dead about installing the platform.