St Michael's free school head quit amid investigation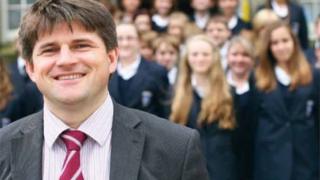 A head teacher who resigned for personal reasons had been under investigation by school governors, it has emerged.
Teachers at St Michael's Catholic School in Cornwall raised a number of grievances against the head teacher Neil Anderson last July, said a union.
The Diocese of Plymouth investigated the complaints.
Governors said Mr Anderson, who did not return after the 2014 summer holidays, had resigned for "personal reasons".
St Michael's, which opened in 2012, was the first free school in Cornwall and has about 150 pupils.
Free schools allow groups of local parents, teachers or charities to establish their own schools and are outside local authority control.
Staff 'treated badly'
Last July, staff members of the Association of Teachers and Lecturers (ATL) raised concerns about Mr Anderson's leadership.
David Guiterman, joint secretary of the union's Cornwall branch, said: "A lot of the staff felt they were being treated quite badly.
"We wrote to the chairman of the governors and requested them to start an investigation through the Catholic diocese which they did."
He said he had not seen the results of the investigation which covered the period from July to October 2014.
"It would be a matter between the governing body and Mr Anderson," he said.
Joyce Sanderson, chairman of the governors, confirmed an investigation had taken place but would not reveal details.
"The reasons for Mr Anderson's resignation are personal," she said.
The BBC was unable to contact Mr Anderson and no-one from the diocese or the school was available for comment.
St Michael's first Ofsted report last year report said the school "requires improvement".
The governors said in March that the school would be taken over by the Camborne Science and International Academy (CSIA) in September and Emma Haase from the academy had been appointed acting head teacher.